And the winner is:
Anyes from Far Away in the Sunshine!
Anyes will need to watch her mail box because on it's way is a brand new paper back copy of Scotch on the Rocks by Lizzie Lamb, the print of the first line artwork by Bradley Corbett and a fun packet of extra goodies sent along by the author!
Lizzie Lamb writes humorous, contemporary romance, you can find her on her website, on Twitter and on Facebook. If you hop on over to any of those places you'll see that it just so happens, that her books are on sale right now!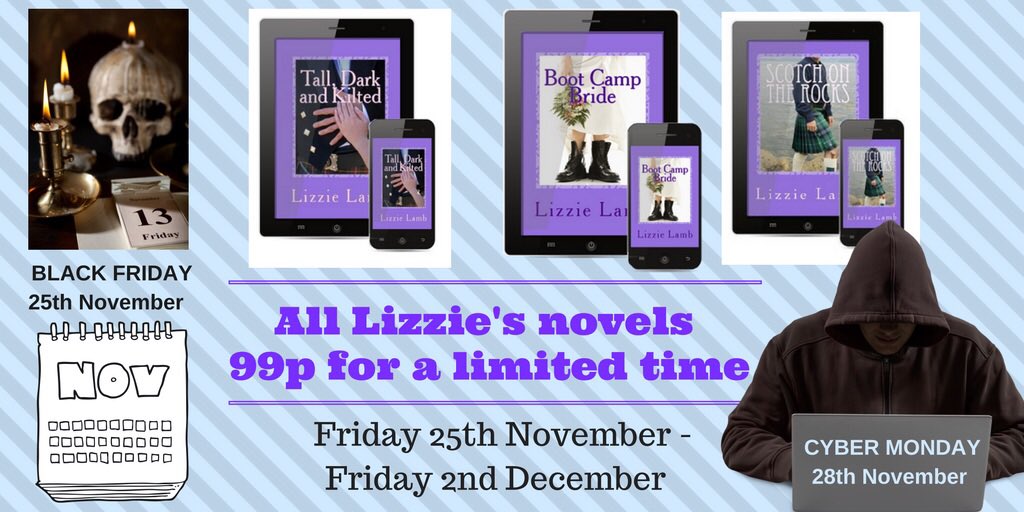 If she's a new author to you, this is the perfect time to give her books a try.
I think they are just as good as birthday cake…
---
Scotch on the Rocks
"Romance novels are birthday cake and life is often peanut butter and jelly. I think everyone should have lots of delicious romance novels lying around for those times when the peanut butter of life gets stuck to the roof of your mouth."
– Janet Evanovitch 
Life had too much peanut butter in it. I needed a birthday cake of a romance novel and, thankfully, Scotch on the Rocks was on the menu.
Why a birthday cake of a romance novel?
Well, because like birthday cake, you aren't expecting nutrition from your romance novel. You don't expect your latest romance or slice of birthday cake to make you a better person. And you don't actually want much of a surprise. "Surprise – your birthday cake has nuts!" Is not something anyone wants to hear.
The comfort of predictability, reliable sweetness, a touch of decadence, and a great big pile of happy… that's what makes both a good birthday cake and romance novel.
Scotch on the Rocks was a true birthday cake of a romance novel.
The woman is beautiful, but in a girl-next-door way: Yellow cake.
The man is gorgeous: Chocolate frosting.
And rich: Chocolate ganache frosting.
The banter between the two is witty: Two layers!
The steamy scenes are steamy without being raunchy: Extra big slice!
He, on occasion, wears a kilt: Frosting roses!
There is a super sassy parrot: Sparkler candle!
But then, of course, there is the terrible, everything has to fall apart so they can get back together section.
I hate that part.
It's like when your husband pretends to steal all your frosting and then gives it back right at the last second. You're pretty sure that since he hates frosting, he's going to give it back but it's always a relief when it's back on your own plate.  Just in case this is the time he changes his mind.
Sure, it adds some drama to the experience but I don't actually want drama. I just want to eat my frosting and be happy. It was a relief that, while reading this birthday cake, frosting was merely scooped off my plate with a flourish before I received a wink and it was plopped right back on top!
Would I recommend it? Well… do you like cake?
---
Book at the Door winner was chosen using a random number generator from http://www.random.org 
Artists of all kinds (Yes, you photographers and you who says you can't draw and you who just wants to practice hand lettering and you who is selling paintings online and…all of you!) if you are interested in providing a small piece of work that includes a first sentence I would love to hear from you!  
Authors, have I read your book and tagged it as a recommended read? Would you like to donate a hard copy? Let me know! 
Book at the Door is taking a break for the month of December but will be back again in January!